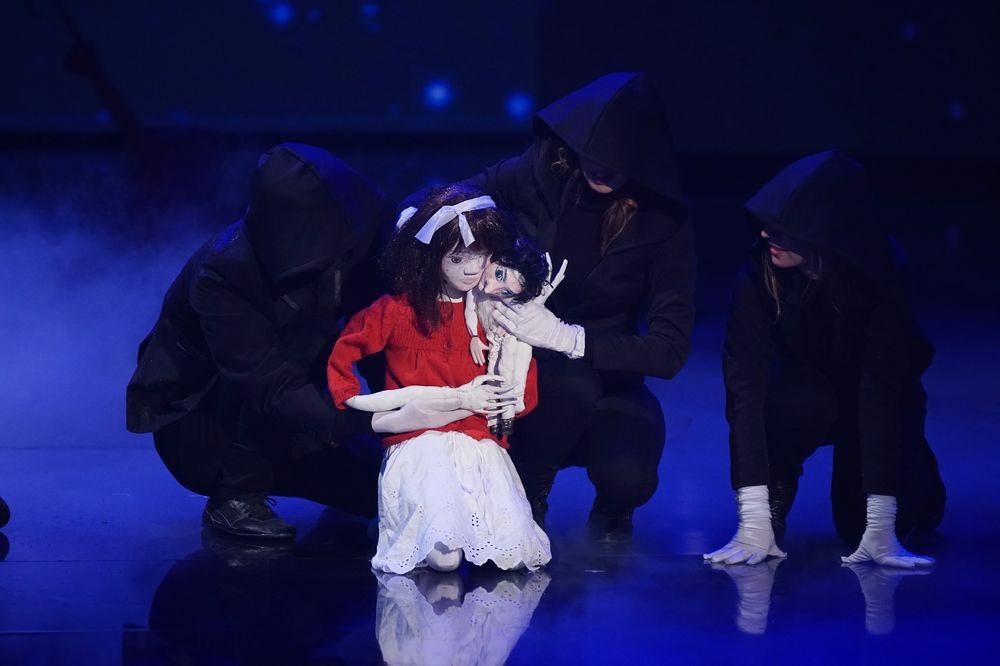 Lightwave Theatre is an independent visual theatre company from Romania with life-size puppets and shows for grown-ups which performed at Romania's Got Talent in 2015 receiving a Golden Buzzer that took them straight to the semi-finals.
On 3rd of February, Lightwave Theatre amazed the German audience and jury at "Die Puppenstars" on RTL with an impressive story brought on stage with the help of life-size puppets specially created for this occasion. The members of the company received three green stars, and are now eager to be in the Finals.
"There wasn't just one puppet but more, and they are not easy to manipulate or to fit so many puppeteers behind them." – Gaby Köster, juror Die Puppenstars

"You took us into the little girl's dream world, and I forgot all about you. The magic moment was when the little puppet came to life. Wonderful." – Max Giermann, juror Die Puppenstars

"Wonderful." – Martin Reinl, juror Die Puppenstars
The Romania's Got Talent experience helped Lightwave Theatre to feel like home on stage and backstage of Die Puppenstars thanks to the things they learnt behind the scenes alongside the PRO TV's production team.
"It was a mind-blowing experience. It's a show dedicated to the art of animation, so we felt really comfortable amongst so many puppeteers" – Cristina-Andreea Ion, director and founder of Lightwave Theatre Company

"It's overwhelming to see how hundreds of people are working for you to shine during those three minutes. I remembered the Romania's Got Talent experience." – Petru Stratulat, puppeteer and co-founder of Lightwave Theatre Company
Lightwave Theatre Company was founded in 2013. Since then, the company produced two shows, Reflection and Loverphysics, and a third one currently in production with premiere set-up for this spring, and built more than 20 puppets to bring their stories to life on national and international stages like Great Britain, Croatia, Turkey and Bulgaria.
---
[maxbutton id="6″ url="http://teatruvizual.ro/lightwave-theatre-die-puppenstars-romanii-au-talent/"]
---