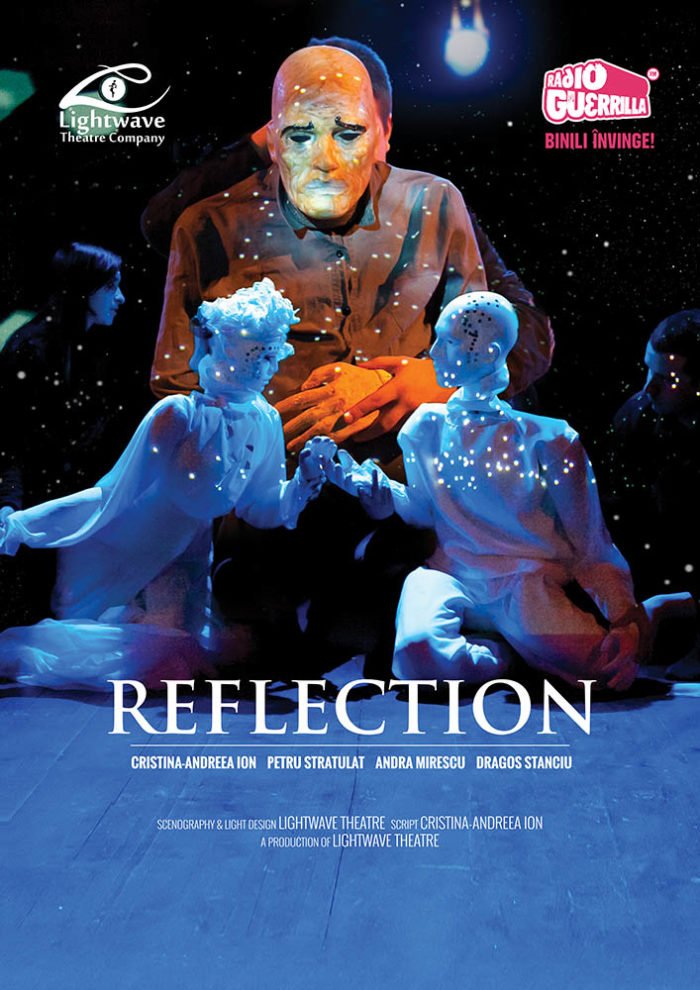 ---
Reservations closed
---
An emotional story without words which will touch you profoundly. Life-size puppets interacting with those on the body of the puppeteers and the actors in a story that will take you on a conflicting journey.
A man and a woman live their second youth in their garden, trying to overcome a tragic experience that set them apart. The joy of the past is revived by the sadness of the present.
Lightwave Theatre Company has been invited on international stages in Germany, Indonesia, Thailand, Turkey, Bulgaria, Vietnam and Japan and on national ones like Bucharest, Timisoara, Sibiu, Arad, Vama Ceche, Focsani and Craiova.
Partner: Radio Guerrilla
Durata: 50 min
Trailer 1: https://vimeo.com/178044384
Trailer 2: https://vimeo.com/178046082
Fragment: https://vimeo.com/178043541
Cast:
Cristina Andreea Ion (Director)
Petru Stratulat
Andra Mirescu / Oana Cercel
Dragos Stanciu
This slideshow requires JavaScript.
Testimoniale
Reflection este o provocare a imaginatiei, este o poveste matura, care poate fi a mea, a ta , a oricarui om care duce cu el deja un bagaj de experiente si trairi. Spectacolul reuseste sa te puna in fata celui mai de temut dusman si a celei mai spectaculoase iluzii cu care ne confruntam: gandul… Gandul iubirii trecute, gandul trecerii timpului, gandul vietii, gandul reusitei sau al esecului. Gandul fricii si al curajului. Reflection este o invitatie la introspectie. – Brigitta Szebenyi (solista)

Spectacolul Reflection by Lightwave Theatre Company reprezinta pentru orice iubitor de frumos si arta, in sensul general, un subiect de meditatie si cautare a unor intelesuri dincolo de cuvinte. O reflectie asupra unei muzici alese cu grija cat sa completeze mesajul miscarilor papusilor, manuite cu maiestrie de artistii papusari; un spectacol inedit care te solicita intelectual si emotional si care te determina sa deslusesti atatea intelesuri prin non-verbalul continutului artistic. – Mimi Voicu (designer vestimentar)

Intr-o atmosfera de eveniment important, spectacolul Reflection te duce intr-o lume a amintirilor dintr-o viata, care ar fi putut fi a oricaruia dintre noi. Printr-o magie doar de ei stiuta, actorii si papusile lor pline de viata te poarta, precum intr-un vis, prin fata evenimentelor ce te-au facut cel ce esti acum, acolo, in sala. Dragoste, ezitare, demoni interiori, copilul ascuns adanc in aparenta de adult sunt starniti si pleci cu intrebarea: De unde au stiut ca asta mi s-a intamplat? O sa auzim destul de des de Lightware Theatre. Au multe de spus. Si le spun bine. Felicitari! – Bruno Mastan (marionetist)

Reflection e o manifestare artistica surprinzatoare in peisajul nostru cultural. Am fost placut impresionata de energia si intensitatea cu care este transmis clasicul <<memento mori>>. O recomandare pe care deja am inaintat-o grupului meu de prieteni, o iesire de calitate, linistita, asezata, o initiativa si un stil de viitor. – Daciana Calistru (Deal Manager – Oracle Romania)

A fost un spectacol deosebit, subtil, plin de inventivitate si care a provocat multa emotie, cum a fost, de exemplu, ideea de a amesteca papusi reale, dar pline de "viata", cu papusi fictive, adica dansatoare "manipulate" virtual de alte papusi de pe scena. Mai mult, pentru ca un spactacol de papusi sa descatuseze emotii, trebuie sa fie un mix de visual si muzica, iar alegerea luminilor si a muzicii de fundal, care a insotit diversele scene, a fost cat se poate de potrivita. – Denis Duchemin (Director – EMEA Services Deal Management, Oracle Corporation)